Posted by Bindertek on Apr 8th 2019

Ask Bindertek: What's the difference between 2 and 3-ring binders and why would I choose one over the other?
We tend to be on one side or the other:
Coke or Pepsi.
Beatles or Elvis.
McDonald's or Burger King.
Well, we'd like to throw one more into the mix: 2-ring or 3-ring.
OK…we're fully aware that the issue of 2 vs. 3-ring binders probably falls low on the cultural radar screen as compared to the ones listed above. But we are in the business of selling binders (we did name our company after them), and in the realm of what we do, this is one of the more frequently asked questions we get.
The reality is we love 2-ring binders, for reasons discussed shortly, and we firmly believe that once you learn the differences and ultimate benefits (we're talking to you lawyers!), you may come to see the light and learn to love the 2-ring as well.
So let's discuss.
If you were raised in the United States, the odds are you grew up using a 3-ring binder for school.
That's just how it went. More than likely you had one that was purchased from whatever store you bought your back to school supplies from, creating t an uphill battle against a binder that would constantly jam up (due to what we call in the industry a "zig-zag" mechanism that quite often fails to line up), tear up your papers, and cause a bit of a mess.
This is not to say that 3-ring binders haven't come a long way.
When Bindertek opened up many years ago, our first priority was to create the best 3-ring binder on the market. In lieu of the more commonly used zig-zag mechanism, we designed our binders to utilize a ball and socket that fit snugly in place to avoid misalignment. That coupled with a premium locking mechanism that opens and closes with a lever has turned it into one of the premiere 3-ring binders on the market.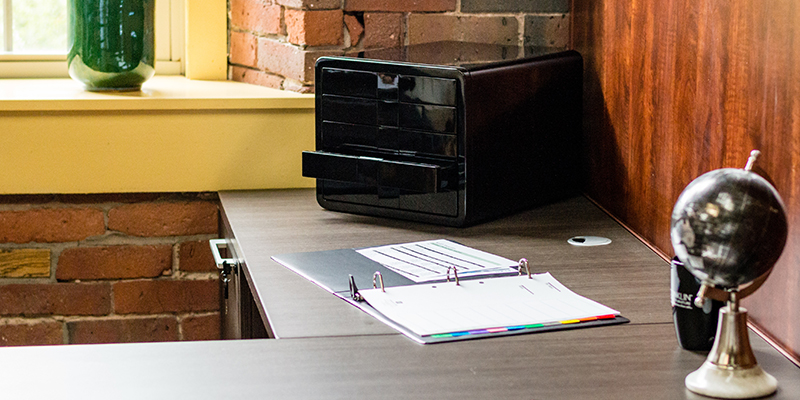 But we're here to talk about 2-ring binders.
Placed under oath, the majority of the team here will admit that prior to joining the Bindertek family, we didn't know that 2-ring binders existed. But look a little deeper and you'll discover that 2-ring binders have been the gold standard for binder usage across Europe for over a hundred years. They were first invented back in 1886 by German inventor Fredrich Soennecken, and while they have seen various updates over the years, the general principle remains the same.
What's unique about the 2-ring binder.
2-ring binders are really ideal for the professional who needs easy access to information without the worries of their papers getting ripped or misplaced.
They are designed with arch-shaped rings that make it very easy to flip over the contents of your binder and find what you are looking over, even if you have a full binder.
2-ring binders utilize the lever-arch mechanism with ball and socket rings to give you control over the opening and closing of the rings and ensuring the rings always match up
Due to the nature of the 2-ring holes, document retrieval is made easier because you can flip both the top third and bottom third of any page, which is ideal when you need to find information quickly!
The top of the rings pop through the cover of the binder itself, which makes it sturdier and can stand up by itself.
Finally, 2-ring binders* come with a compressor bar that allows you to hold all your pages in place. This prevents pages from accidentally flopping around or accidentally getting ripped out of place.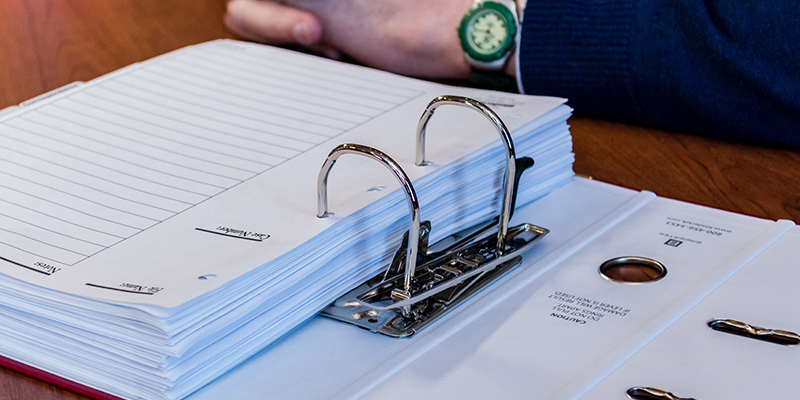 2-ring binders have been embraced by many professional communities are often used for historical documents. Papers archived in a 2-ring binder can last for decades and are ideal for long-term storage. The Bindertek 2-ring binder has become the staple for many attorneys who use them for trials, and often find that due to the ease of use, they often outperform opposing counsel in the retrieval of important court documents during a case.
Of course, you don't have to be a lawyer to utilize a 2-ring binder. It's great for anyone who wants a better way to organize and store their paper files.
Plus, they go great with either Coke OR Pepsi.
*An inquiry into why the 3-ring doesn't come with a compressor bar revealed that one would not provide adequate security for the pages due to the spacing of the 3-rings.