Binder Dimensions and What They Mean
Posted by Bindertek on Apr 26th 2022
You need a binder, but what size do you get? There are Letter and Legal Binders, 3-Ring and 2-Ring Binders, not to mention the different spine sizes! What does it all mean? Have no fear — we're here to walk you through it all.
What are the most common binder sizes*?
Our letter-size binders are 11.375" x 11.625" and are designed to fit standard 8.5" x 11" paper
Our ledger-size binders are 20" x 11.5" and are designed to fit ledger/tabloid 11" x 17" paper
Our legal-size binders are 11.5" x 14.5" and are designed to fit legal 8.5" x 14" paper
Our mini binders are 8.5" x 9" and are designed to fit half letter 5.5" x 8.5" paper
Our A3 binders are 18.8" x 12.5" and are designed to fit A3 11.75" x 16.5" paper
Our A4 binders are 11.3" x 12.5" and are designed to fit A4 8.25" x 11.75" paper
Our A5 binders are 8.5" x 9" and are designed to fit A5 5.875" x 8.25" paper
U.S. and European Binder Sizes: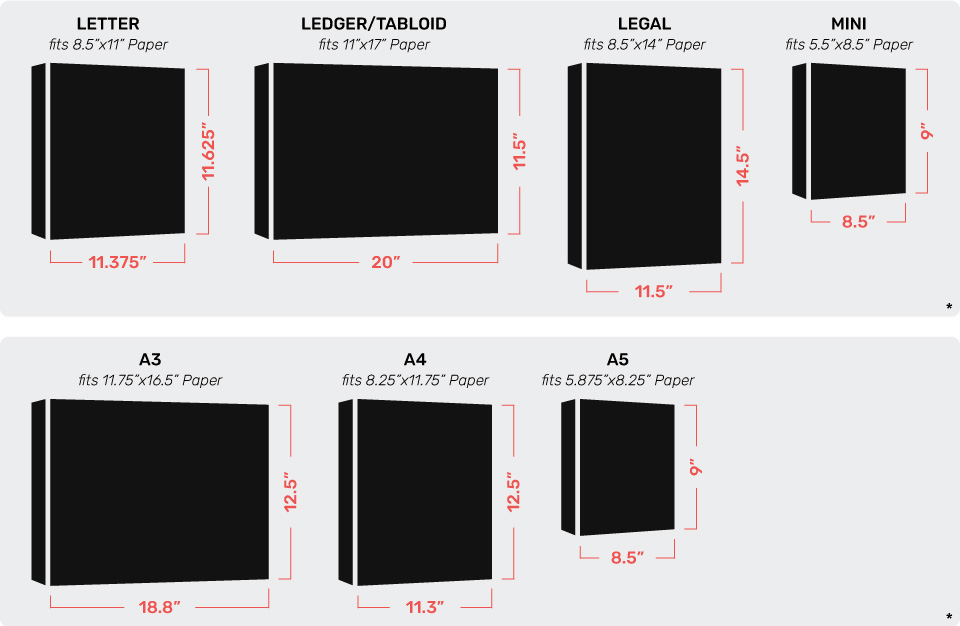 *Binder sizes may vary. Sizes displayed above are based on our One-Touch Classic and Leitz style binders.
Why are the actual binder dimensions so much larger than the paper?
Here at Bindertek, we rivet our rings to the back cover, not the spine — this helps pages lay flat and not get caught on the ring closure when the binder is closed. The extra width provides space for the ring mechanism and more coverage to protect your work (your papers won't stick out from the edge of our binders).
Can we talk about spine width?
Absolutely. We list all of our binders by their spine width, not the ring size. If you're wondering how many pages you can fit in our binders, check the specifications of the binder you're interested in to find the sheet capacity. As a rough guide, our 2" binders have 1.25" rings that hold about 300 pages, and our 3" binders have 2" rings that hold about 525 pages. The sheet capacity can vary depending on the weight of the paper used, so keep that in mind when you're purchasing. Our estimates use standard copy paper.
What does ring spacing mean?
Ring spacing is the distance between the rings and varies between the two styles (3-ring vs. 2-ring). Rings are spaced 4.25" apart for 3-ring binders and 2.75" for 2-ring binders. We have hole punches that accommodate both, so you can choose whichever style you prefer. Some folks like the classic 3-ring design that securely holds pages in place, while others opt for the 2-ring that allows easy perusing through documents (flip the top of the pages down or bottoms up to quickly find what you need).
Important to note: European binders have different ring spacing. Whether they're a 2-ring or 4-ring binder, the spacing between rings is 8 cm.